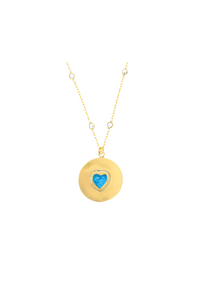 Heart Shaped Paraiba Medallion Necklace
Achieve a sophisticated style in Alexis Daoud's Heart Shaped Emerald Medallion Necklace
, featuring a lovely 18K gold plated sterling silver medallion with emerald-adorned center on a diamond by the yard chain. Create a beautiful look when you rock this gem with another chain of your choice 
for a look that will last a lifetime.
Materials Used

• 925 Sterling Silver
• Premium AAA+ Cubic Zirconia Stones
• Heart Shaped Genuine Emerald
• 18k Yellow Gold Plated
Taxes and Customs
Please check your country's tax and customs rate.
Any Questions?
Simply message us here and we will get back to you within 24 hours!